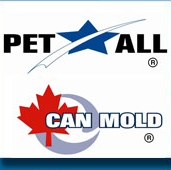 About Us
Pet All Manufacturing Inc. is a Canadian company operating in Toronto, Ontario, Canada; with facilities in the United States of America (Michigan), United Kingdom (Manchester area), South America (Brazil & Argentina) and China (Chengdu).
The majority of our work is in IBM, where "Pet All" and "Can Mold" trademarks have established an excellent reputation.
Our parent company was established in the early 1980's, giving a long tradition in the plastics industry.
In 1989 we introduced EBM and PET technologies to our program and in 1993 opened our first China based facility.
In 2002 / 2003, full manufacture of the Leak Tester Program at our Canadian Facilities took place, with manufacture being transferred from Australia to Toronto.
Our IBM program began in 2003 / 2004, and our first IBM Inverted Head Machine appeared in 2005, sold to Owens Illinois, OH.
In 2006 we entered the IBM tooling market and by 2011 over 50 IBM Molds were sold that year.
In 2008 we opened our USA Service Center in Michigan. UK service followed soon after in 2011, in Manchester.
By 2012 over 35 Blow Molders were delivered in a single year, making Pet All / Can Mold brands an important cog in the Blow Mold Industry.
In 2013 we installed one of the largest EBM standard production machines ever delivered to the USA, capable of producing 8 five litre containers per cycle.
Since 2011 Pet All has supplied many of Europe's largest manufacturers w/ IBM Equipment. Including major players such as M & H, Promens and RPC in the UK and Weener and Bohm in Germany.

In EBM Pet All has a solid installed base in UK with over a dozen machines supplied.


UK & Europe Hotline:

Canadian Head Office:
ADDRESS:
85 Royal Crest Court Markham, Ontario
L3R 9X5
Canada
TELEPHONE:
905-305-1797
FAX:
905-305-0013
E-MAIL:
obrandau@petallmfg.com

Pet All DEMONSTRATION CENTER
620 Minnie Street
Paynesville MN 56362
TELEPHONE:
905-305-1797
E-MAIL:
obrandau@petallmfg.com

China Centre:
Mike Liu

TELEPHONE:
86 139 624 78740
WeChat ID:
13962478740
E-MAIL: liulvkuan@163.com