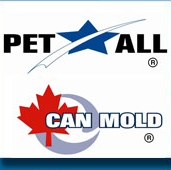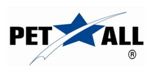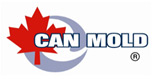 Can Mold -
Phoenix Series


Heavy Duty
Extrusion Blow Molders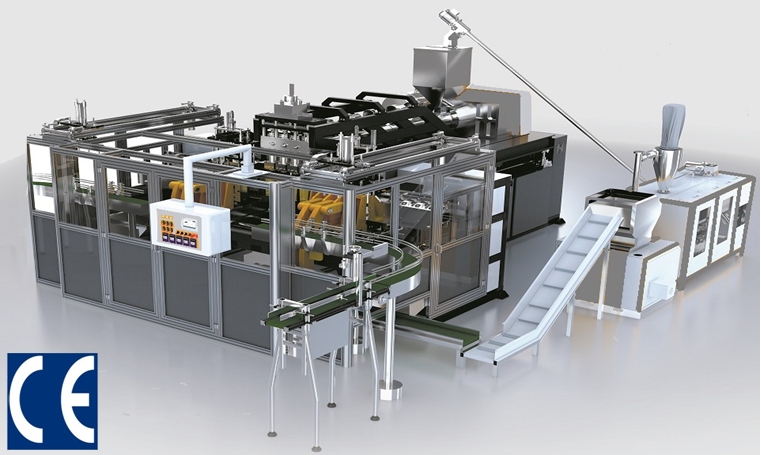 Phoenix Series
There are 5 basic models of Phoenix, but special sizes and variations are available by request.
1. 105F Can Mold Phoenix Series
2. 1010F Can Mold Phoenix Series
3. 1012F Can Mold Phoenix Series
4. 1015F Can Mold Phoenix Series
5. Small Bottle (Dairy) Phoenix Series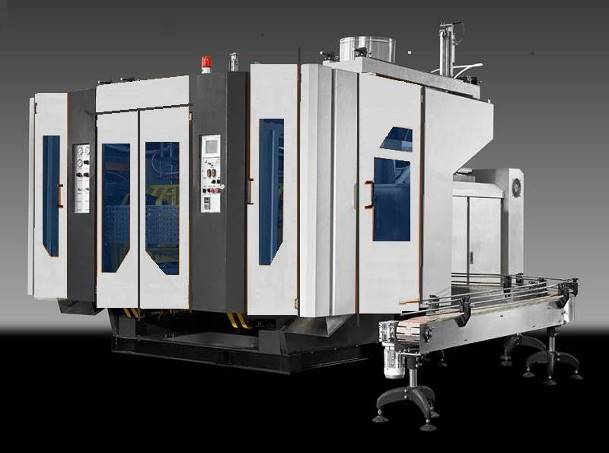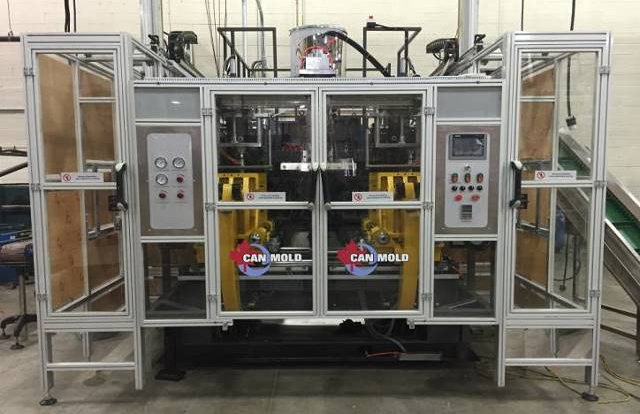 The 105F and the 1015F can be offered in either of the 2 configurations shown.
Product Types
Basic Technical Specifications
105F
1010F
1012F
1015F
Special 10-155
Platen Size (W x H)
300mm x 365mm
380mm x 440mm
480mm x 340mm
700mm x 445mm
480 x 445
Machine Stroke
500mm
650mm
650mm
900mm
650mm
Standard Clamp Tonnage
78Kn
127Kn
110Kn
196Kn
127Kn
Standard Extrusion Capacity
60Kg Hour (65mm extruder)
90 / 105Kg Hour (75mm extruder)
120Kg Hour(75mm extruder)
230Kg Hour (100mm extruder)
185Kg Hour (90mm extruder)
Open Close Stroke
250mm
350mm
200mm
390mm
350mm
Machine Size (L x H x W)
3.8M x 2.45M x 3.6M
4.34M x 2.6M x 3.15M
4M x 4.04 x 2.57M
6.2M x 4.7M x 2.5M
4M x 4.10M x 2.6M
Full technical details on request - Head Centres on request
Technical Details
Take-out of product through middle machine to 1 or 2 sides (choice) - Robot Arm System.
Controller Siemens Simatic S7, 100 sets of storage for molds.
Parison Control Siemens 50Pt or 100Pt (choice).
Deflash Top, handle, bottom included.
Conveyors Through middle for finished bottles. Scrap conveyor underneath, then onto grinder conveyor up to mouth of grinder.
Screen Siemens 7" touch screen standard.
Inverter Yaskawa, Japanese
Sensors and Relays Omron, Japanese
Hydraulic System Yuken, Japanese
Pneumatics Rexroth, Germany
Platform Automatic Lifting System
Die Head Chrome plated die head with torpedo design. 2 zone temperature control. 3 screw adjustment at front.
Clamp Massively constructed toggle system with balanced frame. Platen hook support.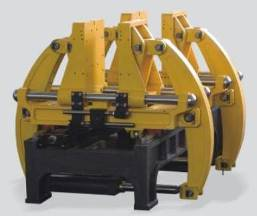 Controls Cold start protection, self-diagnosis, empty hopper warning.
Proportional Controls On carriage stroke and clamp by request (optional).
Independent Hydraulic adjustments for mold close and clamp force.
Lubrication Automatic control system.
Linear High precision, explosion proof guides (linear).Rapid, smooth movement.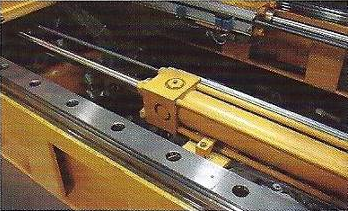 Linear Guides
Machine Layout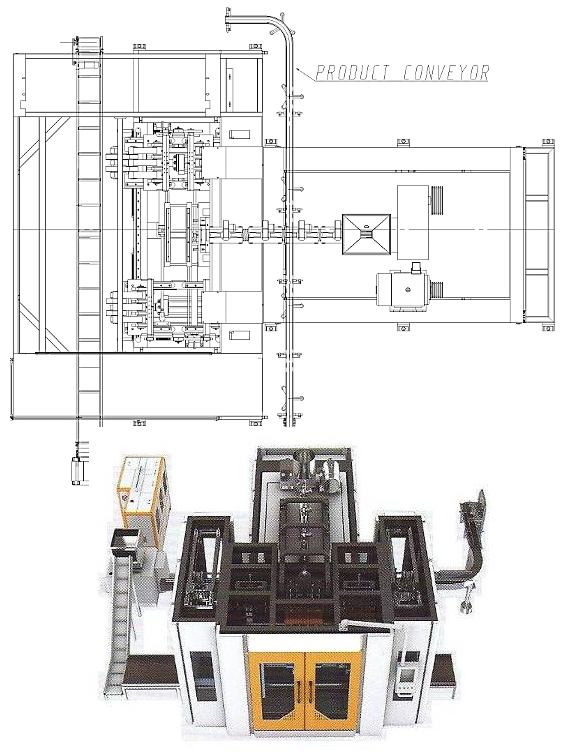 Complete Configuration Layout
Electrics CSA (Canadian Standard Electrics) systems, UL equivalent, CE equivalent.
Configuration Linear Bearing, bobbing head system.
Extruder:
Left / right head adjustments
4 sections temperature control
3 sections cooling fan
Cooling device on feed section of barrel and gearbox hopper. 80 Kg capacity with material spill and barrier function.
Blowing System:
With air regulator
Stroke adjustment available
Cooling device water flow to the bottom of blow pin.
Adjustments to left / right / forward / backward.
Eject / neck cooling.
Design of Scrap Removal Horizontal removal and climbing conveyor to grinder.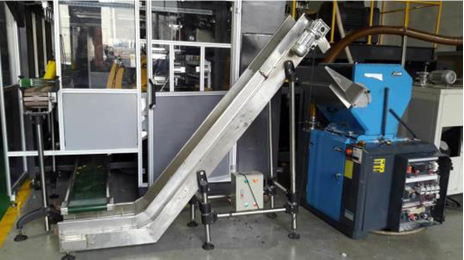 Scrap Conveyor to Grinder
Manufacture of Machine To strict specifications controlled by Pet All Asia staff office. OSHA safety standards throughout, with gate safeties and utilities (disconnects) to OSHA standards. ESA sticker for Ontario standards included.
Scope of Supply Machine, parison control, de-flash, robot takeout, head, scrap conveyors (2), bottle takeout conveyor.
Molds
Molds Aluminum with copper beryllium inserts standard, available with machine.


Copper Insert


Molds Mounted


Molds Mounted
Head Tooling Available.
De-flash Tooling Available
Knife Variety available.Hot knife or pre-squeeze pinch knife standard
Small Bottle (Dairy Type) Phoenix Series

Product Samples - Dairy Bottles

Platen Dimensions - Dairy Bottle
These are single layer machines available in up to 16 cavities (8+8) with de-flash and robot takeout. A 10 second product cycle is standard. Some companies have over 400 of these machines producing milk bottles.
Die Head CD Standard 80mm
Machine Size 4 x 4.6 x 2.57 Metres
Platen Open / Close Stroke 200mm
Clamp Force 110km
Extruder Diameter 75mm
Max Exterior Capacity 120 Kg Hour
Small Bottle Spin Trimming (in machine)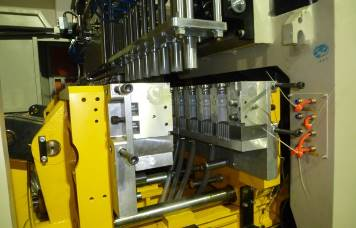 Detail of Small Bottle Machine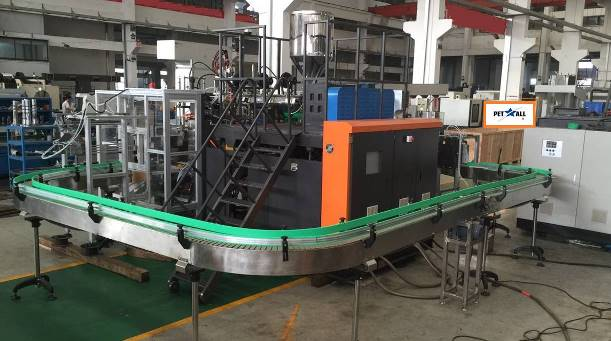 Phoenix Machine with Outside Wrap Conveyor


UK & Europe Hotline:

Canadian Head Office:
ADDRESS:
85 Royal Crest Court Markham, Ontario
L3R 9X5
Canada
TELEPHONE:
905-305-1797
FAX:
905-305-0013
E-MAIL:
obrandau@petallmfg.com

Pet All DEMONSTRATION CENTER
620 Minnie Street
Paynesville MN 56362
TELEPHONE:
905-305-1797
E-MAIL:
obrandau@petallmfg.com

China Centre:
Mike Liu

TELEPHONE:
86 139 624 78740
WeChat ID:
13962478740
E-MAIL: liulvkuan@163.com