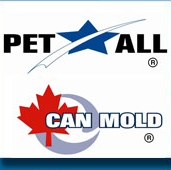 Products >> IBM (Injection Blow Molding)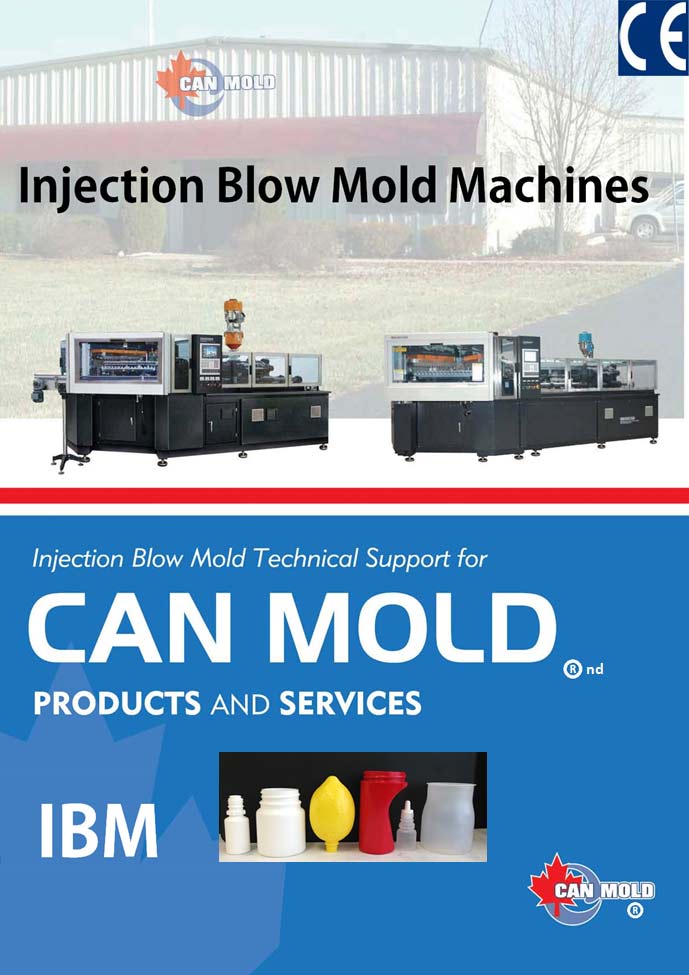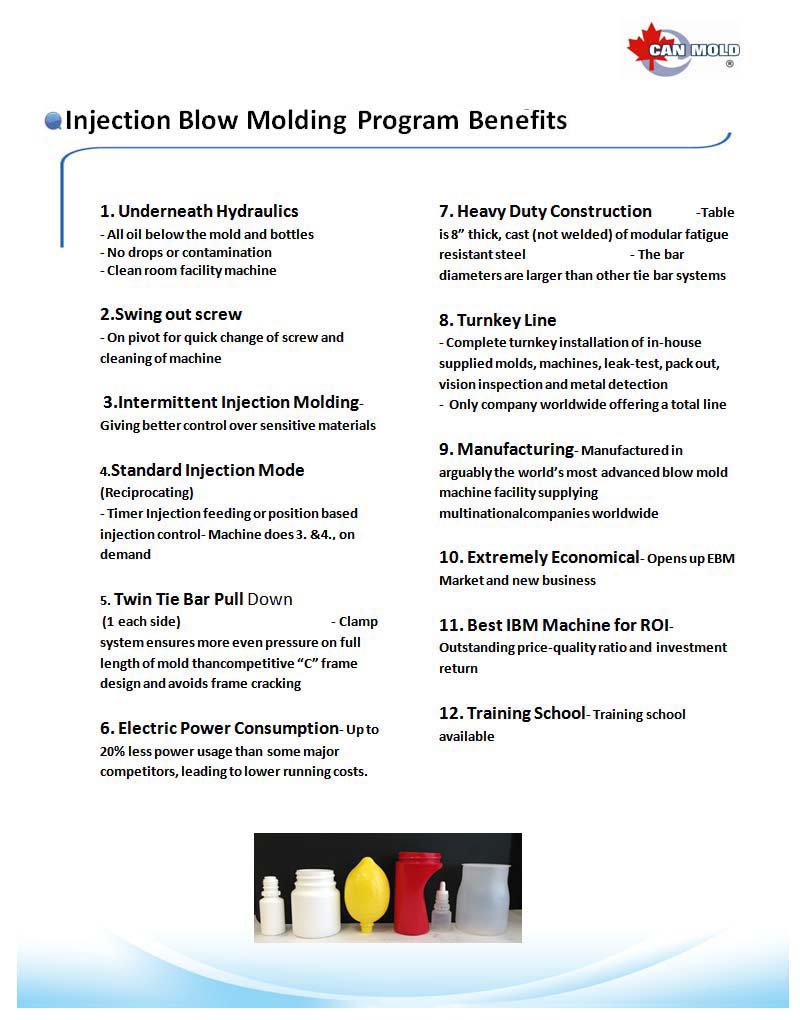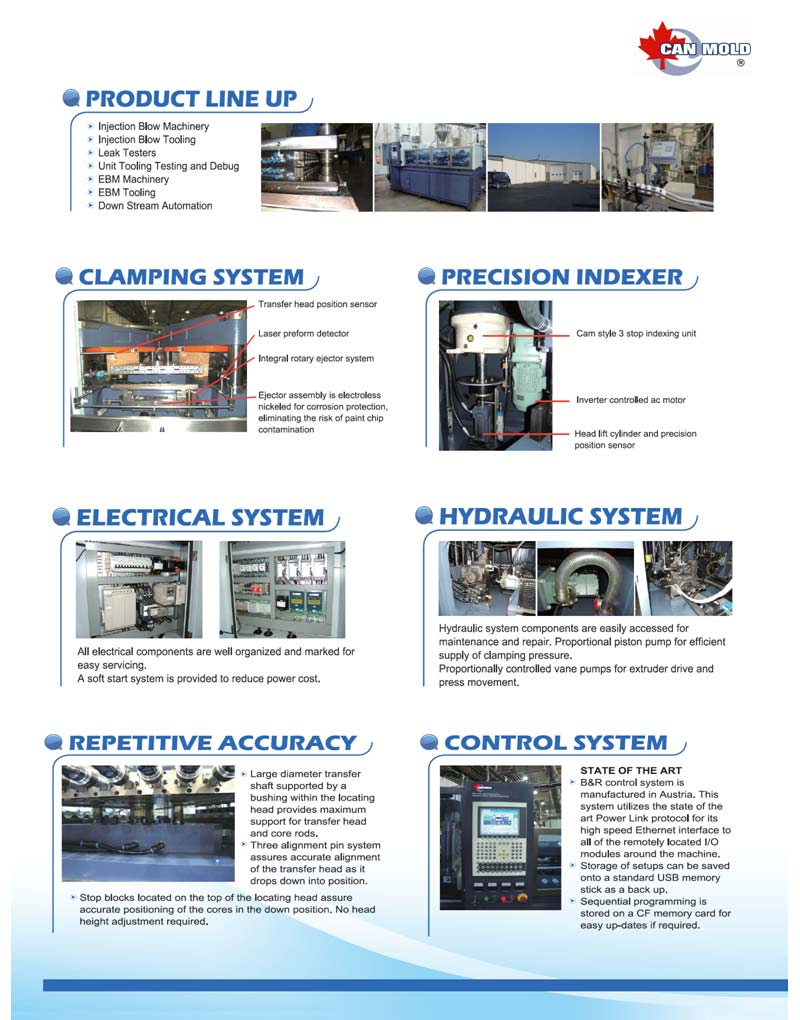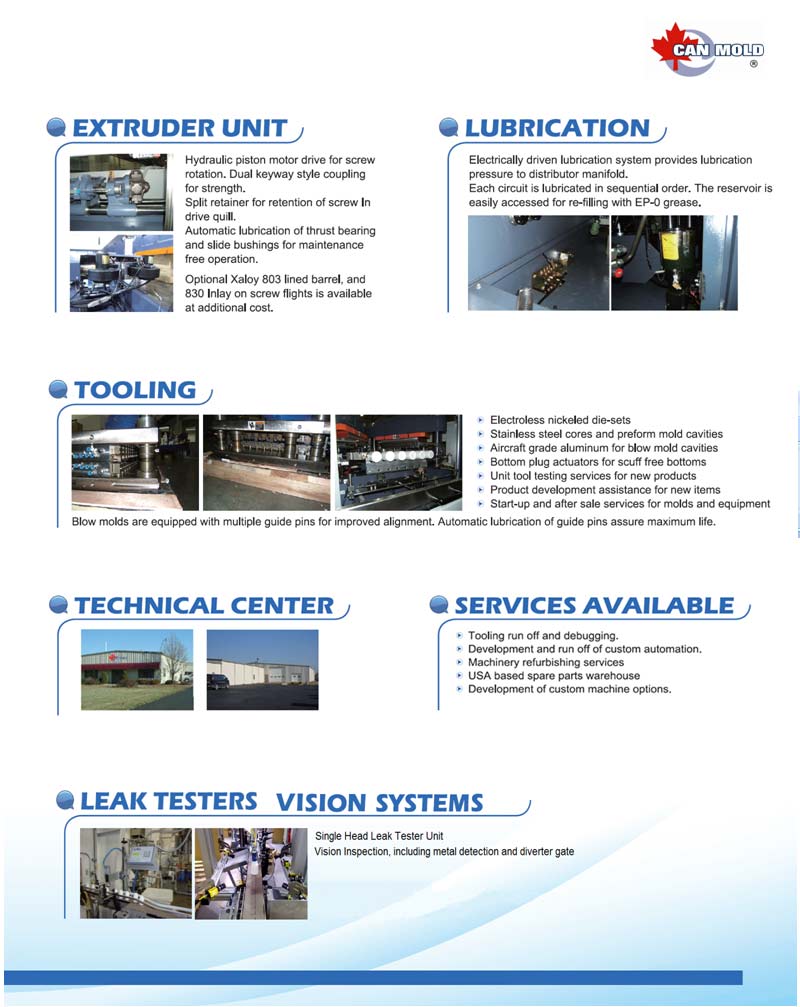 (A)Non Inverted Head Machines
NEXION IBM INJECTION BLOW MOLD MACHINERY
Pet All Manufacturing Inc. offers a range of injection blow molding machines suitable for the range of bottles shown below. These are supplied under the Can Mold Nexion range, and 3 standard models are available: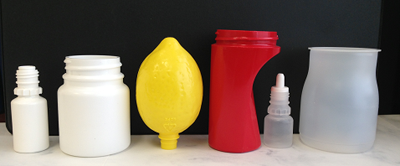 Not only are the injection blow molding machines available, but also IBM tooling to offer a full technical service.
The equipment has been specially designed for Pet All Manufacturing Inc., and all machines for the European market are tested and approved at our engineering centre before release to customers.
Model 250/450 (50 Ton)
Model 300/700 (78.6 Ton)
Model 700/1200 (135 Ton)
Model 700 / 1600 (189 Ton)
The Can Mold Inverted Head (upside down hydraulics) brand machines have the following outstanding features:
Heavy duty solid construction
Oil-free components in the sector above the take-off conveyor giving added suitability for use in pharmaceutical and delicate cosmetic containers
Screw and barrel composition: The screw is made of high quality 38 CrMoA1A material and is hard plated to 40Cr. The barrel is made of high quality bearing steel and is spray welded with hard alloy.
The lifting movement of the rotary table is accomplished by mechanical table lift on Models 125/25 and 160/45. On the largest 250/60 model the turntable movement is produced by a bottom mounted hydraulic cylinder.
The machines come complete with all-round security guarding which is not shown in the photographs, and meet OSHA specifications.
Oil Pump Vickers & Parker Denison (USA)
Hydraulic valves Vickers (USA)
Pneumatic valves Festo (Germany)
Control computer Mitsubishi & Omron (Japan)
Switch Omron (Japan)
Transducers Gefran (Italy)
Displays Allen Bradley (USA)
Low-tension wiring Schneider (France)
Oil motor Intermot (Italy)
Electromotor Bijie (China)
Mold temperature control Shini (China)
Screw and barrel Jinyou (China)
Working table Cast Iron


UK & Europe Hotline:

Canadian Head Office:
ADDRESS:
85 Royal Crest Court Markham, Ontario
L3R 9X5
Canada
TELEPHONE:
905-305-1797
FAX:
905-305-0013
E-MAIL:
obrandau@petallmfg.com

Pet All DEMONSTRATION CENTER
620 Minnie Street
Paynesville MN 56362
TELEPHONE:
905-305-1797
E-MAIL:
obrandau@petallmfg.com

China Centre:
Mike Liu

TELEPHONE:
86 139 624 78740
WeChat ID:
13962478740
E-MAIL: liulvkuan@163.com