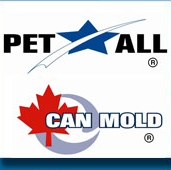 Products >> Pet Blow Molding Machinery
Reheat Stretch Blow Machines
There are three types of machines:
Linear shuttle machines: 1 up to 6 cavities
Small and medium output at low cost
Linear machines with continuous preform motion: 1 to 12 cavities
Even heat distribution and easy operation
Rotary machines: 10 and 14 cavities
High output at a lower cost
ISBM Series Full-Automatic Injection Stretch Blow Molding Machine
This machine is a full automatic one-step molding machine for thermoplastic materials such as PET, PC and PP. It is widely used for the manufacture of packaging bottles in such industries as pharmaceutical, health care and cosmetic.
High Pressure Air Comp
An excellent choice for PET Blow Molding machines requiring high air volume at high pressure the Pet All, Pet Star system uses totally frame supported modular add-on units that can be progressively mounted as requirements increase. A computerized control system manages the interface.


UK & Europe Hotline:

Canadian Head Office:
ADDRESS:
85 Royal Crest Court Markham, Ontario
L3R 9X5
Canada
TELEPHONE:
905-305-1797
FAX:
905-305-0013
E-MAIL:
obrandau@petallmfg.com

Pet All DEMONSTRATION CENTER
620 Minnie Street
Paynesville MN 56362
TELEPHONE:
905-305-1797
E-MAIL:
obrandau@petallmfg.com

China Centre:
Mike Liu

TELEPHONE:
86 139 624 78740
WeChat ID:
13962478740
E-MAIL: liulvkuan@163.com